You'll want to enjoy quality and convenience in your New Build property – which includes a perfect TV reception in all relevant rooms. You'll be surprised how rare this actually is. Call me today, and I'll ensure your house is completely up to date. I'll work on any brand of New Build, including the builders and estates listed below: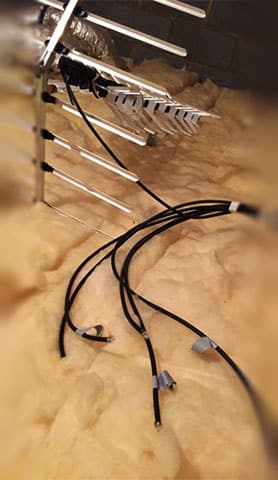 If you've purchased a New Build property in Devon, then you might be disappointed to find that the aerial isn't even plugged in. Perhaps a FreeSat dish from previous owners leads nowhere. The bedroom has a weak signal. I see countless situations where people try to fix this by themselves on the cheap, or use that helpful friend-of-a-friend – but the results are nowhere near 'solved' – or even safe! I have a whole gallery of hilariously shoddy work which I might put up here soon (so watch this space).

I love what I do and know exactly how to get your TV/freesat/Sky/digital needs completely taken care of. I offer an unbeatable two-year guarantee on all work – because I ensure New Build Excellence!
So call now on 07912 609344 to chat about your situation and book a visit, or use the form below.
★★★★★ In this age, when so many large companies seem to see customers just as people to be milked, it is heart warming to find a small, local service that is so skilled and also so determined to provide such excellent customer service.