When your new Sky Glass TV system arrives in Teignmouth, you'll want to get it properly configured, installed and/or wall mounted. Get in touch today and book to have me get it all taken care of for you with an honest, friendly and guaranteed service. With over 100 ★★★★★ Yell reviews, you can be assured of a quality Sky Glass service.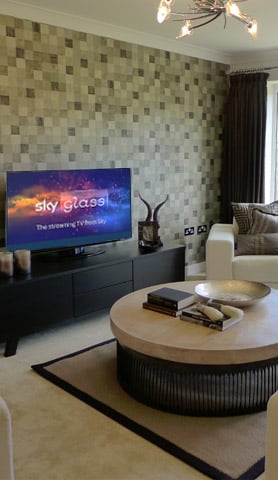 Sky Glass TV Mounting in Teignmouth
Sky Glass Configuration and Set-Up
Integration of Sky Glass with existing audio/gaming equipment
Convenient removal of your packaging & debris
All three sizes (43″, 55″, 65″)
So please contact me today to discuss your needs and schedule your Sky Glass installation Teignmouth booking.
I've been installing TVs, systems and repairing aerials in Teignmouth for over ten years – I love what I do and can't wait to get your Sky Glass mounted and working nicely for you.

Enjoy an unbeatable two-year guarantee on all work – don't pay twice, get it sorted properly first time.
Call today on 07912 609344 to chat about your needs and book a Teignmouth visit, or use the form below.
★★★★★ In this age, when so many large companies seem to see customers just as people to be milked, it is heart warming to find a small, local service that is so skilled and also so determined to provide such excellent customer service.